Self-amplified Amazon forest loss due to vegetation-atmosphere feedbacks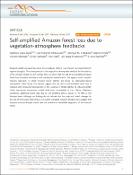 Publisher
London : Nature Publishing Group
Abstract
Reduced rainfall increases the risk of forest dieback, while in return forest loss might intensify regional droughts. The consequences of this vegetation-atmosphere feedback for the stability of the Amazon forest are still unclear. Here we show that the risk of self-amplified Amazon forest loss increases nonlinearly with dry-season intensification. We apply a novel complex-network approach, in which Amazon forest patches are linked by observation-based atmospheric water fluxes. Our results suggest that the risk of self-amplified forest loss is reduced with increasing heterogeneity in the response of forest patches to reduced rainfall. Under dry-season Amazonian rainfall reductions, comparable to Last Glacial Maximum conditions, additional forest loss due to self-amplified effects occurs in 10-13% of the Amazon basin. Although our findings do not indicate that the projected rainfall changes for the end of the twenty-first century will lead to complete Amazon dieback, they suggest that frequent extreme drought events have the potential to destabilize large parts of the Amazon forest.
Keywords
rain
,
air-soil interaction
,
drought
,
dry season
,
forest dynamics
,
forest ecosystem
,
heterogeneity
,
hydrological cycle
,
Last Glacial Maximum
,
rainfall
,
twenty first century
,
Amazonas (Brazil)
,
Article
,
atmosphere
,
deforestation
,
evapotranspiration
,
last glacial maximum
,
risk factor
,
summer
,
vegetation
,
Amazon Basin
,
Amazonia
Citation
Zemp, D. C., Schleussner, C.-F., Barbosa, H. M. J., Hirota, M., Montade, V., Sampaio, G., et al. (2017).
Self-amplified Amazon forest loss due to vegetation-atmosphere feedbacks
(Version publishedVersion, Vol. 8). Version publishedVersion, Vol. 8. London : Nature Publishing Group. https://doi.org//10.1038/ncomms14681
Collections