Jitter-correction for IR/UV-XUV pump-probe experiments at the FLASH free-electron laser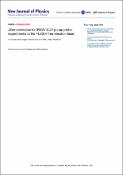 Publisher
[Bad Honnef] : Dt. Physikalische Ges.
Abstract
In pump-probe experiments employing a free-electron laser (FEL) in combination with a synchronized optical femtosecond laser, the arrival-time jitter between the FEL pulse and the optical laser pulse often severely limits the temporal resolution that can be achieved. Here, we present a pump-probe experiment on the UV-induced dissociation of 2,6-difluoroiodobenzene (C6H3F2I) molecules performed at the FLASH FEL that takes advantage of recent upgrades of the FLASH timing and synchronization system to obtain high-quality data that are not limited by the FEL arrival-time jitter. We discuss in detail the necessary data analysis steps and describe the origin of the time-dependent effects in the yields and kinetic energies of the fragment ions that we observe in the experiment.
Keywords
free-electron laser
,
photodissociation
,
pump-probe experiments
,
time-resolved ion imaging
,
velocity map imaging
Citation
Savelyev, E., Boll, R., Bomme, C., Schirmel, N., Redlin, H., Erk, B., et al. (2017, April 10).
Jitter-correction for IR/UV-XUV pump-probe experiments at the FLASH free-electron laser
(Version publishedVersion, Vol. 19). Version publishedVersion, Vol. 19. [Bad Honnef] : Dt. Physikalische Ges. https://doi.org//10.1088/1367-2630/aa652d
Collections