Train-the-Trainer Konzept zum Thema Forschungsdatenmanagement - Version 3.1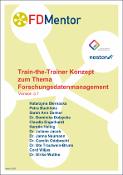 Abstract
Im Rahmen des BMBF-Projekts FDMentor wurde ein deutschsprachiges Train-the-Trainer Programm zum Thema Forschungsdatenmanagement (FDM) erstellt, das nach Projektende durch Mitglieder der UAG Schulungen/Fortbildungen der DINI/nestor-AG Forschungsdaten ergänzt und aktualisiert wurde. Die behandelten Themen umfassen sowohl die Aspekte des Forschungsdatenmanagements als auch didaktische Einheiten zu Lernkonzepten, Workshopgestaltung und eine Reihe von didaktischen Methoden.
Die nun veröffentlichte dritte, überarbeitete und erweiterte Version des Train-the-Trainer-Konzepts enthält Einheiten zu Methoden und Materialien für Online-Veranstaltungen. Erste Erfahrungen aus bereits online durchgeführten Train-the-Trainer-Workshops sind zusätzlich in das Konzept eingeflossen. Die mit dieser Version eingeführten didaktischen Methoden für Online-Veranstaltungen sollen die geschulten Trainerinnen dabei unterstützen, ihre Schulungsangebote auch im virtuellen Raum lebendig und interaktiv zu gestalten und dient somit auch der weitergehenden Information der bereits geschulten Teilnehmerinnen. An English version of the "Train-the-Trainer Konzept zum Forschungsdatenmanagement" is available under https://doi.org/10.5281/zenodo.4071471
Keywords
Forschungsdatenmanagement
,
Forschungsdaten
,
Train-the-Trainer
,
Schulung
,
Didaktik
,
Research Data Management
,
Research Data
Citation
Biernacka, K., Buchholz, P., Danker, S. A., Dolzycka, D., Engelhardt, C., Helbig, K., et al. (2020, December 18).
Train-the-Trainer Konzept zum Thema Forschungsdatenmanagement - Version 3.1
(Version draft). Version draft. Meyrin : CERN. https://doi.org/10.5281/zenodo.4322849
Collections